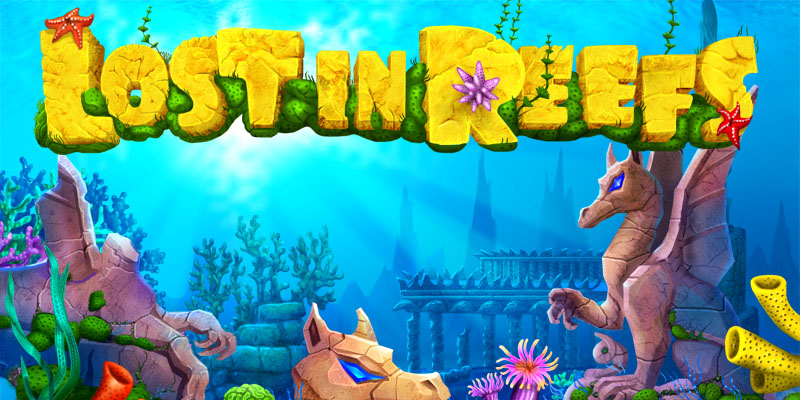 Lost In Reefs presents a fascinating story that will hold a player's attention till the ancient city reveals its hidden mystery. It is not a usual match3 game: a variety of modes, options and tools, advanced graphics and the charming undersea world guarantee fun and delight!
Read more...
Welcome to Lost In Reefs. Have you heard of huge dragons which inhabited the Earth many centuries ago? Certainly, you have. They lived together with people and were the most powerful creatures of the time. And nobody knows where they went. But do you remember that old paper roll you found last year?
The lines written in it revealed a secret of the lost civilization - all kinds of those wonderful dragons were still alive. Both peaceful and fire-breathing creatures, who liked to fly between mountaintops, prevented their lands from enemy attacks and transported huge cargo now live on our planet. People loved them and were sure dragons would help them with whatever people asked. But the nature turned out to be even more powerful and one day it did a sudden harm to dragons and they couldn't cope with it. The city where they lived was damaged thoroughly by an earthquake. And what could they do? The ones managed to survive went right to the ocean's bottom. You kept that secret in mind and decided to discover dragons' new location. Now you're ready to start! Become Lost In Reefs. Dive deeper, don't be afraid of sea creatures - they'll lead you where you need. Watch this wonderful world full of unfamiliar colors. The search isn't always easy for sure, but the hidden mystery is already close, so you shouldn't give up as there is no other chance to see everything with your own eyes. Many different objects will help you with it so use them to complete lines of three or more things. You can choose one of three modes any of which will set a new challenge for you. This is what we call Lost In Reefs.
Read less...
Screenshots
Features
Three Challenging Game Play Modes
20 Masterpieces to Discover
12 Original Species of Fish
Relaxing Atmosphere
Fantastic Special Effects
Simple to Learn!
Languages
English
German
French
Spanish
Italian
Dutch
Swedish
Portugal
Related News
Platforms
PC
Mac OS 10.7+
iPhone/iPad
Share with friends